Main Stage Sponsored By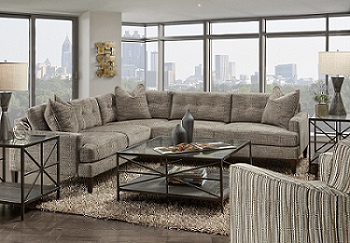 Show it off and live it up!
The best home décor is a reflection of the life that's lived around it – it's got to suit your lifestyle as well as your style. Our goal for this year's main stage was really the same as for any room: to create a space that looks great but is also inviting and easy to use. We love this fresh new sectional design from Bauhaus Furniture, which provides plenty of seating with a relaxed, modern feel that can be dressed up or down. Show it off, then settle in and let your room come to life.
2020 Main Stage Schedule:


Friday, January 24:
| | | |
| --- | --- | --- |
| Start | End | Presentation |
| 1:00pm | 2:00pm | Nolan Miller of Miller Custom Remodeling presents: The Latest & Greatest for Your Kitchen & Bathroom |
| 2:00pm | 3:00pm | Brita Sailer of the Recycling Association presents: Take Recycling to the Next Step for your Home and Yard Remodeling Project |
| 3:00pm | 4:00pm | Jon Friesner of GroShed presents: Local Winter Food Production |
| 4:00pm | 5:00pm | Slumberland Furniture presents: Style Tips from SP Design |
| 5:00pm | 6:00pm | Brett Tutor of TLC's Trading Spaces |
Saturday, January 25:
| | | |
| --- | --- | --- |
| Start | End | Presentation |
| 10:30am | 11:30am | Brita Sailer of the Recycling Association presents: Take Recycling to the Next Step for your Home and Yard Remodeling Project |
| 11:30am | 12:30pm | Brett Tutor of TLC's Trading Spaces |
| 12:30pm | 1:30pm | Slumberland Furniture presents: Style Tips from SP Design |
| 1:30pm | 2:30pm | Nolan Miller of Miller Custom Remodeling presents: The Latest & Greatest for Your Kitchen & Bathroom |
| 2:30pm | 3:30pm | Slumberland Furniture presents: Style Tips from SP Design |
| 3:30pm | 4:30pm | Jon Friesner of GroShed presents: Local Winter Food Production |
| 4:30pm | 5:30pm | Brett Tutor of TLC's Trading Spaces |
| 5:30pm | 6:30pm | Joan James of A Backyard Farm presents: Vertical Gardening for Small Spaces |
Sunday, January 26:
| | | |
| --- | --- | --- |
| Start | End | Presentation |
| 11:30am | 12:30pm | Slumberland Furniture presents: Style Tips from SP Designs |
| 12:30pm | 1:30pm | Brett Tutor of TLC's Trading Spaces |
| 1:30pm | 2:30pm | Nolan Miller of Miller Custom Remodeling presents: The Latest & Greatest for Your Kitchen & Bathroom |
| 2:30pm | 3:30pm | Slumberland Furniture presents: Style Tips from SP Designs |
| 3:30pm | 4:30pm | Joan James of A Backyard Farm presents: Vertical Gardening for Small Spaces |